Monday, August 22, 2011
Seth picked up some new wheels for Our Lady. The 15x7" wheels will let us run a larger tire.
Location:Defoor Ct NW,Atlanta,United States
Posted by

Brian VanHiel
at 10:27 AM
No comments:

Saturday, August 20, 2011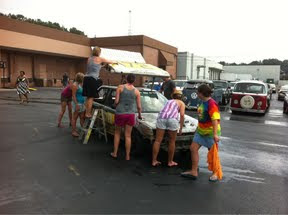 There was a car wash at the brewery benefitting the Susan G. Komen foundation. I got a picture of Our Lady in the act of supporting breast cancer research.
Posted by

Brian VanHiel
at 5:06 PM
1 comment:

Tuesday, August 16, 2011
We've been running the Hawk HP Plus pads on our Integra brakes. In general we get about 3-4 races from them.

Here are the P/N's
Fronts: HB242N.661 (fit '93 Integra LS)
Backs: HB350N.496 (fit '95 Integra LS)



Posted by

Brian VanHiel
at 9:18 AM
No comments: